Material on this web site copyright © 1995-2018, TelePost, Inc. All rights reserved.
Pricing and specifications subject to change without notice.

TelePost Inc.

49100 Pine Hill Dr.,
Plymouth, MI 48170 734.455.3716
email
Manufacturers of high quality RF test equipment for lab, industrial and Amateur Radio users.

Larry Phipps - N8LP
Janet Phipps - N8JBP

See important statement regarding the new EU General Data Protection Regulation (GDPR)...






LP-100A Digital Vector Wattmeter
Simple to use... lab quality... groundbreaking features. Much more than just a wattmeter. 11 band NIST traceable calibration. Click above for detailed information, links to reviews, QEX article and more on this exciting instrument.

Dual Coupler Option allows two couplers to be used with one LP-100A. The meter automatically senses and displays power and SWR for the active coupler, making monitoring of SO2R operations a snap. Also handy for radios with separate HF and 6m outputs. Use any two couplers. Each coupler has its own CAL table.





- Fwd & Net Power - 50mW to 3KW Autoranging

- SWR, R+j|X|, Reflected Power

- 1.8-54 MHz with frequency counter
for per-band corrections of all parameters

- Long life, high resolution Graphic VFD display

- Simultaneous POWER and SWR bargraphs

- dBm/RL scales with 0.1 dB steps

- Calibrated field strength input (-15 to +33dBm)

- Dual coupler option w/ auto-sensing and two CAL tables

- SWR alarm w/PTT disable & snooze button

- Serial port w/Windows

®

control & plotting software

- 5KW & 10KW optional couplers

- Mode for measuring speech compression

- 11 Band NIST traceable calibration

- Flash upgradeable

LP-100 to LP-100A Display Upgrade
Dual Coupler Option
LP-PAN 2 Software Defined IQ Panadapter


* Designed for K3, K2, Kenwood, Orion, FT-950/2K/3K/5K &
commercial receivers with broadband IF output


* Up to 192 kHz display width, up to 24" monitor or larger




* Switching quadrature detector for >110dB dynamic range


* -145dBm noise floor, +22dBm IP3 at -15dBm
* Low noise preamp w/attenuator switch


* Buffer amp with very high LO isolation




* Fully isolated inputs / outputs with MIL SPEC audio xfmrs




* Point and click frequency control with many SDR applications

.
* Provides main & sub-rcvr, linked to the K3 tuning knobs
* One button band and mode change


* LP-Bridge / LPB2 provides sharing of radio with multiple apps




* Shielded metal enclosure



Preamp option for original LP-PAN




SteppIR Stuff...

SteppIR Programs, Computer control for your SteppIR
SteppIR Tuning Relay

| | |
| --- | --- |
| | Protect your investment... N8LP SteppIR Tuning Relay disables your amplifier while the SteppIR is tuning. Called "a must have" by members of the SteppIR reflector for anyone who runs high power. Rated 5.0 on eHam.net. Available as a kit or assembled. |


Remote Base Station Related Stuff...
LP-Remote , Hardware and software to control your remote base station
Remote Base Help, Interactive help file to aid in setting up a remote base station
Software Station Control, Computer station control
Remote Control of Networked Station Equipment, Using serial servers to extend the range of your serial ports. Based on the QST article of the same name by N8LP.
SteppIR Virtual Control Panel, Remotely control your SteppIR




Other Stuff...



E-Beam Hybrid Minibeam Project
LP-Rotor





TelePost privacy and GDPR related information (preliminary).



While we are still digesting the implications of this for our European customers, we have compiled some useful links to the applicable data handlers of our website visitors and customers.

Our website is hosted by Network Solutions, LLC, a Web.com Company. Here is a link to their GDPR FAQ page. Much of this relates to us as a direct customer of Network Solutions, but also has information about how they handle traffic to their hosted websites, like telepostinc.com... https://knowledge.web.com/subjects/article/KA-02358/en-us#What%20is%20GDPR?

Internet sales for TelePost Inc. is handled by PayPal. Here is a link to their Privacy Policy... https://www.paypal.com/us/webapps/mpp/ua/privacy-full

When a customer orders through PayPal, we do not see his credit card information. Phone (credit card) orders at TelePost are processed through PayPal. Credit card and user data information collected during phone orders are stored only in hand written form, and TelePost will destroy any user data requested by the user at any time. We do not share user data of any form with any entity other than PayPal as required to process phone orders. It is only used to process payments and for warranty records. TelePost saves all emails from customers in our email client on our office computers. Data saved is the same as would be saved in your personal email client, and oncludes the subject, body and header information of emails sent to us.



Favorite Links...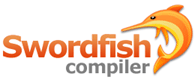 Swordfish compiler. Fast, structured BASIC... true compiler. The power behind the LP-100. I used Swordfish to write the LP-100 firmware. Jack, K8ZOA also used it to write the firmware for his Z90 Panadapter. We we've been using Swordfish since the Alpha version and more recently in Beta and production release versions.
Click on the Swordfish logo to read about this great compiler, and to download a demo version which is limited only by restriction on the amount of user RAM available, 200 bytes. Although this may not sound like much memory, Swordfish is so efficient at RAM recycling that Swordfish SE can be used for many "real" programs, not just for experimentation.
If you are a PIC programmer using 18F series devices, or if you simply wish to see the best PIC compiler I've used, visit Swordfish's home page and download Swordfish SE. I recommend it highly.


TRX-Manager. Rig control software that integrates with LP-100A, and a number of TelePost's software applications.


N4PY Software. Rig control software that integrates with LP-PAN/LP-Bridge and recently also added integration with LP-100A. This is currently the best software to use for integrating LP-PAN with Orion and Orion II.

---