LP-PAN / NaP3 (v4.0)


(LP-PAN 2 or LP-PAN with preamp option)



P3SVGA (P3 v1.16, SVGA v1.04)


Screen Size



Any size

Up to 24" or more

Monitor resolution

Any resolution supported by your monitor and video card. Most modern video cards support up to 2560x1600 pixels.
4 resolution choices up to 1920x1080 pixels (1440x900 max recommended by Elecraft for best performance)

Sample resolution

(see note 1 below)



24-bit

24-bit nominal ?

Span

1kHz to 192kHz
2kHz to 200kHz

Display Refresh Rate

(see note 2 below)



Up to 50 frames/sec, any span, PC dependent
30 frames/sec or more on most PCs

~2 frames/sec to ~8 frames/sec (span dependent)


FFT Bins (horizontal samples)

(see note 3 below)

4k to 128k, settable per mode

2k fixed


Point/click tuning resolution

1Hz to 50kHz, saved per mode in band stack

10Hz to 100Hz, span dependent

RBW (Resolution Bandwidth)

(see note 3 below)

1.5Hz @ 192kHz sampling rate, any span
0.375Hz @ 48kHz sampling rate, any span

1.5Hz to 97Hz (span/2048) ?


Noise floor with K3

(see note 4 & pictures below)


(K3 preamp on)

-137dBm@4K FFT... any span

(FFT can be set per mode)


-143dBm@16K FFT... any span (Typical for most modes)
-152dBm@128K FFT... any span (Typical for narrow modes)

-157dBm@2kHz, -150dBm@10kHz, -144dBm@50kHz
-139dBm@200kHz

(FFT fixed at 2K)




Noise floor 6dB worse on P3 monitor (FFT 0.5K).



Vertical REF level

400dB range in steps of 1dB to 40dB (1dB increments). Independently adjustable for pan and waterfall for each band.
180dB range in steps of 1 dB. Adjustments are saved for each band, but pan and waterfall share the adjustment.


Vertical Scale



400dB range in steps of 1dB to 40dB (1dB increments). Independently adjustable for pan and waterfall for each band.


10dB - 80dB, 1dB to 10dB steps. Adjustable for each band, but pan and waterfall share the adjustment. Note: On some bands, strong signals are off scale at N8LP.

Ease of Installation
Requires installation of NaP3 software and usually an additional sound card. This requires a certain level of computer savvy. It's trivial for some --- difficult for others. LP-PAN should only be considered by computer literate users.
Plug and play, but requires PC for firmware updates and additional features through P3 Utility program.

Cost
Total cost with Asus Xonar U5 sound card and cables ~$330. Newer desktop PCs oftern have acceptable sound cards built in, which reduces cost by $65. Assumes the existence of a suitable PC and monitor.

$960 kit, $1010 assembled, plus dedicated monitor.


Tuning



Point/click for both VFOs in both pan and waterfall, drag spectrum for large excursions, fine tune with mousewheel, direct keyboard entry, etc. Mouse tuning rate/snap size are saved per mode.

Select marker A or B, turn knob to move cursor, tap.

IQ outputs for CW-Skimmer & SDR apps

Yes
No


Intangibles

Also provides a full dual channel receiver with state-of-the-art DSP controls, filtering, EQ, etc. Band and Mode buttons for K3. Provides audio outputs for both Main and Sub receiver. Provides exceptional high fidelity audio output for ESSB, AM/SW broadcast, etc.

Has built in telnet server and displays clickable web cluster or CW Skimmer spots in pan display.



Offers function keys which will allow future control of K3 functions. May also provide future ability to display and edit K3 parameters, read PSK and RTTY, etc. P3 center frequency is tunable over a wide range, while LP-PAN is xtal controlled.

1. P3SVGA slows down considerably at 150kHz span, then speeds up again above 150kHz.
2. P3SVGA refresh rate measurements were made by timing the P3SVGA waterfall and dividing the number of vertical lines written by the total time needed to write them. Measurements were made with a 1920 x 1080 monitor. Refresh was checked in both "fixed" and "tracking" modes. At most spans the refresh is 6-7 frames/sec. It drops to 3 fps at very narrow spans, and <2 fps in the area of 130-150kHz span for some reason. I checked with another user and he verified this behavior.
3. While it may look like NaP3 has an advantage here, because of the differences between fixed and variable sampling, these are comparable.
4. Measurements were made with P3 and LP-PAN connected directly to K3 IF OUT (not through P3 splitter). LP-PAN measurements made with E-MU 0204. Sound card sampling set to 192kHz. Noise floor would be 3dB better with 96kHz and 6dB better with 48kHz sampling. Screen grabs of NaP3 and P3 below at spans of 150kHz and 2kHz. The NaP3 pictures are cropped and zoomed down to match the 480x272 captures from the P3.
Important note: The P3 SVGA output has 6dB lower noise floor than the P3 pictures shown because the SVGA output uses 4x larger FFT.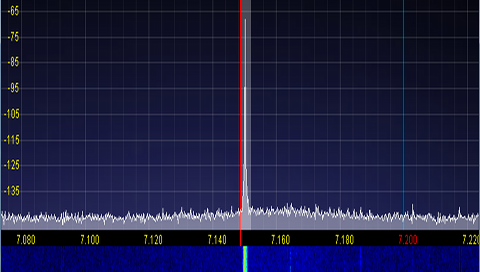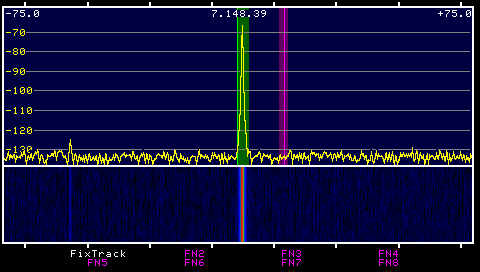 Above... LP-PAN 2 / NaP3: 150kHz span, 192kHz sampling, 16K FFT... P3: 150kHz span.
LP-PAN 2 -143dBm, P3 -135dBm, P3SVGA output (not shown) -141dBm

Below... LP-PAN 2 / NaP3: 2kHz span, 192kHz sampling, 128K FFT... P3: 2kHz span. LP-PAN 2 advantage ~5dB
LP-PAN 2 -155dBm, P3 -151dBm, P3SVGA output (not shown) -157dBm